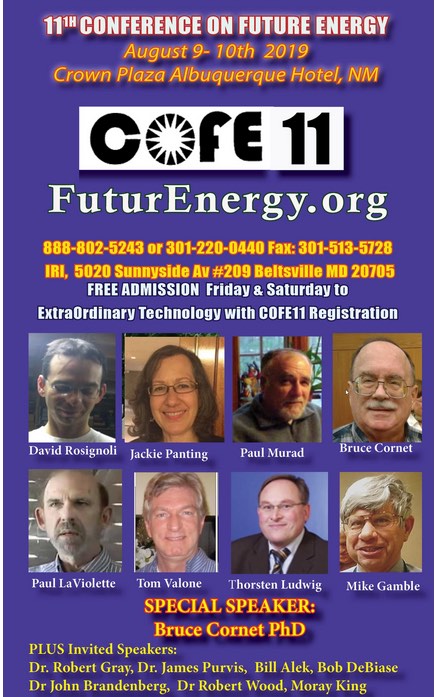 Posted: 7-13-19
Dr. Paul LaViolette will be giving two lectures in Albuquerque, NM this August.
• One at the 2019 Tesla Technology Conference on Friday afternoon, August 9th.  The title will be "Grebennikov's levitating platform: Cavity structures, antigravity, and ether physics;" see  https://www.teslatech.info/ttevents/2019conf/2019ETCp09.pdf.
• The other at the C onference on Free Energy on Saturday afternoon, August 10th.  The title will be "Testing the superluminal and time dilation predictions of the Subquantum Kinetics unified field theory;" see https://www.integrityresearchinstitute.org/COFE11schedule.pdf.
Both will be held at the Crowne Plaza Hotel in Albuquerque, NM.
For more information see:
https://teslatech.info/ttevents/2019conf/prghome.htm
https://teslatech.info/ttevents/2019conf/prghome.htm
https://integrity-research-institute.myshopify.com/products/cofe10-conference-registration