I am posting this interesting article by Kathy Forti about a NASA scientist's disclosure of alien activity on the dark side of the Moon.  I believe it closely relates to the bright spot phenomenon seen on Ceres.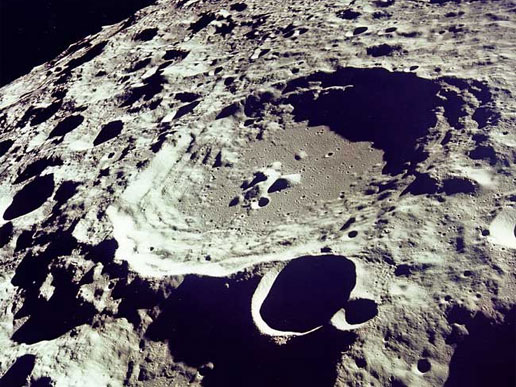 Article by: Dr. Kathy Forti
May 13, 2015, https://www.trinfinity8.com/exploring-the-dark-side-of-the-moon/
Reposted by: P. LaViolette, July 2, 2015
"One of the most interesting dinner parties I ever attended was back in the 80's where I learned there is more on the Moon than meets the eye—except for maybe NASA's eyes. One of the dinner guests was a retired NASA scientist and perhaps a few drinks loosened his tongue, but before the end of the evening he was revealing things about the Moon that shocked our world. Personally, I think he was relieved to finally unload such a big secret he had been carrying around for years. As a psychologist, I know it had to be causing incredible anxiety.
What was the big NASA secret? Number 1: NASA discovered back in the 1960's that the Moon is not only inhabited by strange structures, but intelligent life. Number 2: NASA Moon probes showed the far (or dark side of the moon as Pink Floyd would call it) is home to some sort of extraterrestrial base and their huge spacecraft vehicles.  I kid you not and neither was our NASA scientist.
This was back in the early 80's when I first learned all this. At the time, few even suspected what NASA had found and the general public was relatively clueless. Our NASA Deep Throat told us about domes and perfect geometric-shaped construction that signaled whoever its builders were, they had vast mathematical knowledge. We listened in awe as he described NASA pictures he saw which showed vehicle tracks, mile high spires that might be some type of transmitting tower, and machinery that suggested a mining operation was underway.
For NASA, the Apollo lunar missions were more about finding out what was going on up there than making one giant leap for mankind. It was clear we were not the first humans and/or humanoids to land on the Moon. We also wanted to find out what happened to our Moon probe, which mysteriously disappeared in 1967.
From 1966 through 1967, NASA sent five Lunar Obiter satellites to circle and photograph the lunar surface and select potential landing sites for the manned landings. The orbiters were very sophisticated and contained highly classified cameras which could supposedly "photograph and read a gum wrapper on a street in New York City…" The missing lunar orbiter was later found on the far side of the moon, rendered inoperable. Was it intentionally short-circuited to avoid outsiders spying on these extraterrestrial Christopher Columbus in their New World?
NASA shared and exchanged findings with the Russians, hoping to heaven it wasn't them who had secretly colonized the Moon first. But it wasn't Russia that beat us out and no one knew who, what or where these ETs had come from. From the depth and breadth of their buildings, it was evident they had been there for quite some time.  Close, yet so far—observing us.
NASA took note of the strange gas ejections, mist, and clouds escaping from fissures in the moon's surface, suggesting that whoever the inhabitants were they were living underground and had devised some type of sophisticated air filtration system. Since it is virtually impossible to have continuous stream of clouds, mist, dust, or gases on the Moon, without it dispersing, this also confirmed some kind of subterranean community. NASA observed what appeared to be a large metal extraction project on the Moon's surface. If these ETs were mining the Moon, it was a vast reservoir for iron, nickel, aluminum, titanium, uranium and thorium.
Objects in moon craters were observed having moved from one location to another over time, as evidenced in time-lapse NASA photos. Since craters don't just move over time on their own, NASA suspected it might be parked space vehicles coming and going.
Strange moving bands of lights, odd markings and ground symbols were also seen on the lunar surface. The Moon has no rain to wash away or erode these symbols, so they are permanent markings. Large visible arrows and glyphs with letters that look like A, Z, P, E, and F were observed near many structures. They are said to resemble ancient rune symbols. Perhaps they simply serve a more useful function—like runway/landing markings for a cosmic aircraft base.
Astronauts report having seen mountains carved in exact shapes, and unusual fleur-de-lis like insignias. Crosses dot the lunar landscape. Not like our Roman cross, but more like Xs. NASA can only guess at their meaning.
So why haven't we seen high-resolution pics of all this from those cameras that can supposedly "read a gum wrapper on a street in New York City?" As taxpayers we paid for all this lunar mission stuff and should have access to all raw data. What the public sees instead are fuzzy-grained photos when we clearly have the technology for crystal clear pics.
I remember someone asking our NASA Deep Throat that very question. No surprise. NASA has been airbrushing photos from space since Day One. They release photos at maybe 1/10 their true resolution with suspicious blanked out areas. Once in awhile raw data leaks through that hasn't been conveniently "lost". Their excuse? We don't want to set off public panic. They continue to postulate that the American people can't handle the Truth. Wrong.
Today, much of this covert Moon stuff is already known in UFO/Disclosure circles and it hasn't driven us over the edge, just increased our curiosity.  Many of us find it interesting how we suddenly stopped going to the Moon when we were so initially hot on it. Some in NASA have hinted that we were "warned off" the Moon and are not welcome back. Could this be because in July 2009 we actually bombed the moon for some insane, never fully explained, reason? These ETs have already seen our way of trying to conquer and invade other lands. The size of their ships must have scared the daylights out of our government, astronauts and NASA.
In his book, Penetration, Ingo Swann, the granddaddy of all remote-viewers, described how the government asked him in 1975 to view some coordinates on the Moon. Swann had no idea what to expect and within minutes after mentally zeroing on the coordinates, thought he had made a mistake. He saw rows of large tractor tread marks.
"I'm sorry, I seem to have gotten back to Earth here… Well, there are… some… I have no idea. But whatever it was it couldn't be on the Moon."
The government agent gave Swann another set of coordinates, to which he was instructed to again report what he saw.
"Well, I am in a place which is sort of down, like a crater I suppose. There is this strange green haze, like a light of some kind. They are giving off green light. Beyond that, all is dark though… I see two rows of them… yes, sort of like lights at football arenas, high up, banks of them… I can't be on the Moon. I guess I have to apologize, I seem to be getting somewhere here on Earth."
Swann thought he was being asked to remote view a Russian base. He was re-assured that he was indeed viewing the Moon and encouraged to keep reporting what he saw.
"There is a noise of some kind, like a thumping. I can see one of the night towers better now. Hey, it seems built of some very narrow struts of some kind, thin like pencils. Like some sort of pre-fab stuff right out of Buckminster Fuller's stuff."

"Let's see…hey, there are some of those tractor-tread marks everywhere. If I guess these are about a foot wide, well then, let's see, if I compute as correctly as I can, well… Let's say over a hundred feet…Well, I got a glimpse of the crater's edge. On it I think I saw a very large tower, very high that is. Big, really big! Well, if I compare it to something I am familiar with in New York, about as high as the Secretariat Building at the United Nations—which has thirty-nine floors in it."
Swann went on to describe a mining operation with domes and tubes, bridges, nets and what looked like houses. He described seeing some unusual people.
"The thing about them was that they either were human or looked exactly like us—but they were all males, as I could well see since they were all butt-ass naked. I had absolutely no idea why. They seem to be digging into a hillside or a cliff… Why would they be going around naked?"
All at once, Swann knew they had somehow spotted him psychically watching them. He immediately stopped the session, very fearful. He had an all-knowing that these beings had psychic GPS-like abilities.
While technology, like Google Moon, makes it easier for armchair space sleuths to scout our Moon looking for signs of intelligent life, even they report strange anomalies. One researcher questions whether Google Moon footage is even real.  He reported a barely detectable strange wave ripples over Google Moon visuals every few seconds—like video that's re-looping. He questions whether the Moon footage is actually a projected hologram on a very short reel.  It may be that none of us is actually seeing what's really there, because NASA or someone else doesn't want us to.  Scientists believe the universe may be a giant hologram. So who knows, maybe the Moon (as we know it) is as well. Contemplating the mysteries of the world we live in is never-ending. As my mother used to tell me:  "Kathy, you think too much."